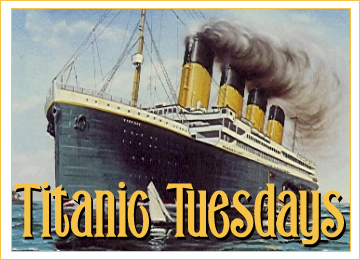 In addition to my obsession with all things
Titanic
, I am somewhat of an amateur genealogist. It's something I discovered a couple of years ago (thanks to the NBC show,
Who Do You Think You Are?
, which I highly recommend), and got pretty addicted for a while. This past weekend, my mother (who was also bitten by the genealogy bug) brought something to my attention: we might have had an ancestor of the
Titanic.
As it turns out, the man in question (John Coffey) is most likely not related to us, or at least not directly. But his story is an interesting one, and I thought it would be a good post topic. As we're coming up to the centennial next month, I'm aiming to be more regular with these posts, so now is as good a time as any to get back into it.
Coffey is a name on my mother's side of the family, and we've been able to trace our tree all the way back to an Edward Coffey, who came over to the US from Ireland in the 1600s. So while we do have some John Coffeys in our family tree, they were all born in the United States long before 1912, meaning the John Coffey on the
Titanic
would only be a very distant cousin, if he were even part of our family at all. Still, it's a nifty connection, and the closest I've come so far to tracing my roots to the ship.
John Coffey was born in Queenstown (now Cobh), Ireland, in 1889. When he was 23, he was living in England after working on
Titanic
's sister ship, the
RMS Olympic
. He then signed on to the
Titanic
as a fireman (or stoker) in Southampton, but did not remain on board for the full voyage. Instead, he snuck off the ship at Queenstown with the mail. Since the Queenstown dock was too small for the ship,
Titanic
docked offshore and smaller boats, or tenders, ferried passengers and mail on and off. RMS, after all, stands for Royal
Mail
Ship, and there was quite a bit of mail to be brought to shore. Coffey claimed to have hidden under the bags of mail on the final tender leaving the ship, and was soon reunited with his family. Most believe this was his reason for deserting the ship: to get a free trip back home. But after the tragedy, he often claimed that he slipped off due to a "bad feeling" about the ship's fate.
Not much more seems to be known about him (that I can find online, at least), other than he supposedly signed on to the
Mauretania
after the
Titanic
sank, and that he eventually passed away in 1957. I did find an old forum comment at Ancestry.com from someone claiming to be his great grandson, but he didn't offer any information publicly.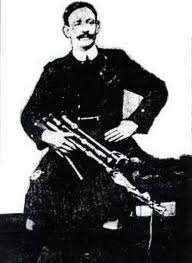 Another Irish passenger that has more information available, and connects more directly to my own book, is Eugene Daly. Daly was 29 years old when he boarded the
Titanic
in Queenstown, and was most known later for playing "Erin's Lament" on his uilleann pipes (similar to bagpipes) while the ship left port. A third class passenger, he sat out on the bow and played, a somber farewell to his homeland. According to the
Encyclopedia Titanica
, his pipes went down with the ship, and he later filed a claim for them for $50. A set of pipes was salvaged from the wreck many years later that might have been his, but no one is certain.
Daly survived the sinking. He helped two women into a lifeboat (his cousin and her roommate) and boarded with them, only to be pulled out by an officer. (This from a letter he wrote to his sister) He later jumped overboard and swam to the overturned collapsible. He clung to it all night, as it was too crowded to get on, and later claimed he only survived due to the thick coat he wore. He was mentioned in many articles afterwards, testified in the hearings, and was one of the survivors to claim an officer shot two male passengers who were trying to board a lifeboat, then shot himself. There is a nice article written about him by his daughter here, if anyone is interested:
http://www.encyclopedia-titanica.org/eugene-daly-his-daughter.html
According to his daughter, he and his wife sailed back to Ireland in 1921 to tend to his sick mother, and the voyage had him in a panic. He vowed never to sail across the Atlantic again, and they remained in Ireland until the early 1960s, after the death of his wife. At this point, he was able to fly back to the US to live with his daughter, and therefore avoided having to get on another ship. Daly passed away in New York in 1965.
I have read accounts of many survivors who refused to get on another ship again, or who found themselves too nervous or panicked the next time they tried. I can't really blame them for it. I'm not sure I'd be too keen of sailing again if I'd been there, either!