I'm not a book blogger, and only do occasional reviews over on GoodReads, but I am a reader. An avid one, at that. My goal this year was to read 125 books, and while I didn't quite make it (I'll be at 114 when I finish the one I'm currently reading, and doubt I will read another 11 books in the next 4 days), I came close. I might have made it if I hadn't published Destined this year: editing and formatting that took me a couple of months, in which I didn't read much else. Still, I read a lot, and will probably get at least one, if not two, more books finished before the year is out. I've been eagerly waiting to read Succubus Revealed by Richelle Mead for months now, but always had library books to get through first. I'm finished my last library book tonight, so I can FINALLY read it. I predict some lost sleep, as I tend to read books I'm really excited about in one late-night marathon reading session.
But enough about that. I wanted to do a quick listing of my favorite books this year. They may not necessarily have been released in 2011, but most probably were.
My top favorite:
Ready Player One by Ernest Cline
I don't know what it was about this book that I loved so much. Maybe it's my inner Child of the 80s? All the nostalgia was fantastic, but the story itself was really original and engrossing. If you like dystopian books and the 80s, you'll probably love this one.
Divergent by Veronica Roth
Speaking of dystopian novels, I have to include this one. It didn't win GoodReads Favorite Book of the Year for nothing. Plus, I'm originally from Chicago, so the setting only added to my initial interest. I loved this, and can't wait for the next one to come out.
Shadowfever by Karen Marie Moning
Holy crap, do I love this series. Each book only got better than the last, and I really didn't want it to end. You can't even imagine how thrilled I was to hear Karen was going to return to the Fever world and write more! (Okay, maybe you can, since I imagine many of you loved this series as much as I did!) Iced is already at the top of my "can't wait" list for 2012.

Unwind by Neal Shusterman
I read this one at the start of the year and almost forgot about it (I have a bad memory for what I've read, no matter how good the book). But going back through my GoodReads lists, I saw that I gave it 5 stars, and I now remember why. This YA dystopian was disturbing. But it was also very good, and I only wish the second would come out sooner than September.
I know there's a lot of dystopian YA on this list, and if you saw my full read-in-2011 list, there'd be even more of it. It's been one of my favorite genres the last few years, and for the time being, I don't see that changing much. Granted, some of the dystopians that have come out lately aren't as good. That happens when a genre explodes like that (it happened with vampire romances, too), but for the most part, I've been pretty happy with the ones I've read. And while I didn't read it this year, I have to give a quick nod to the book that got me back into dystopians in the first place (besides 1984, which I read many, many years ago).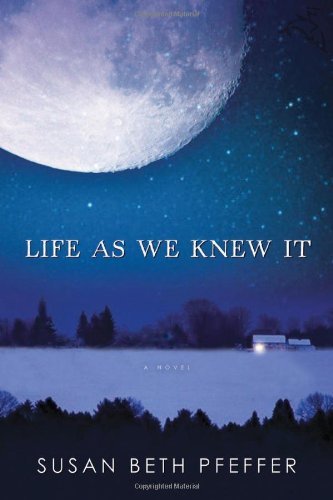 LIfe As We Knew It by Susan Beth Pfeffer
You know how sometimes, when you go tot the movies, when you come out of the theater you feel sort of weird and disconnected, like you're not quite ready for reality to come back? It's not often a book does that to me, but reading this one did. I had to read most of it in one sitting because I couldn't put it down until I knew how it ended, and once it did, I wasn't ready to let it go. It was a disorienting feeling to go back to "real life" once I closed the cover, and the story stuck with me for a long time afterward. I also cried, which is something I don't do very often with a book. Movies and TV, no problem: I bawl like a baby pretty easily with them. But not with a book. This one was a rare exception, and I have devoured dystopians ever since. There are 2 more in the series, both also fantastic, but nothing quite compares to the first. I highly recommend it.
So what were your favorites this year? What are you looking forward to in 2012?