April 11, 1912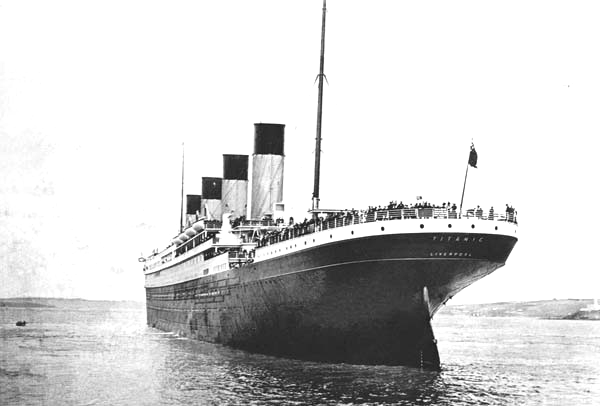 The morning of April 11 was clear but cool, keeping most passengers indoors as the Titanic neared her final stop in Queenstown, Ireland (known today as Cobh). She docked around 11:30am, dropping anchor just outside of Roche's Point, too big to berth at the dock itself. Passengers and mail had to be ferried back and forth on smaller tenders.
Not many passengers disembarked in Ireland, but one of these would later turn out to be a boon for Titanic historians. Francis Browne (later known as Father Browne) had been crossing the channel with the O'Dell family in first class. While he was only on the ship a short time, he brought his camera along and took many photographs of the ship's interiors, some of the only photos that would ever be taken in her short life. A full album of his photographs can be found here.
Another man who got off the ship at Queenstown wasn't supposed to: John Coffey, a Irish fireman who signed on in Southampton, deserted the ship in Queenstown by hiding under some bags of mail. It is thought that he used the ship's voyage as a way to get free passage home. More can be found about him in a previous blog post.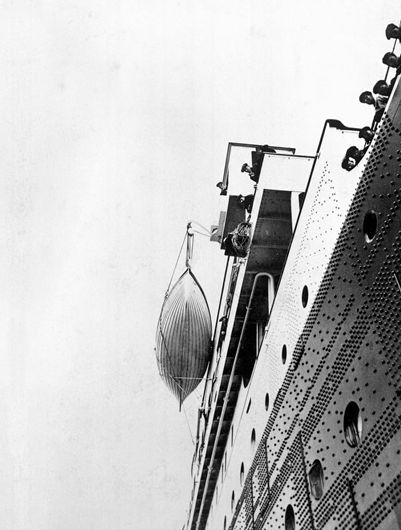 While Titanic is in port, newsmen and others are allowed on board to quickly tour her decks, take pictures and even sell wares to the first class passengers. But not for long, because about two hours after dropping anchor, she is ready to set off again, this time for New York. The photo to the right was taken by Father Browne as he left the ship, the last picture ever taken of Captain Smith, who can be seen peering down from the bridge (top of the image), with one of the lifeboats dangling ominously below.
No first class passengers boarded at Queenstown, and only a few joined the second class, one of which was Nora Keane, who would be placed in a cabin with Edwina Troutt and Susan Webber (both of which are mentioned in DESTINED). The majority of the people coming onto the ship here were third class: immigrants heading to America to start new lives in the New World. Jeremiah Burke, the boy whose "message in a bottle" was found near his hometown a year later (more on him here), was one of these immigrants.
Shortly after 1:30pm, Titanic raised anchor for the last time and headed out to sea. Out on the stern, in the third class promenade, Irishman Eugene Daly (more on his in John Coffey's blog post, above) sat down to play "Erin's Lament" on his pipes, a sad goodbye to the homeland he would not see again for many years.
Once she was underway, a full emergency dress rehearsal took place among the crew, complete with alarm bells and the closing of all the watertight doors. The lifeboat drill for the passengers was scheduled for Sunday morning, April 14. It would not take place, skipped by the Captain for an unknown reason.
The rest of the day would unfold normally, starting up a routine of relaxing, socializing and dining that would continue on throughout the voyage.

What may be the last photograph taken of the Titanic, as she steams away from Ireland's coast.
---
Don't forget the Destined Blog Tour going on this week. Today's stop: Rainy Day Ramblings